There are a zillion online messaging apps available for us to contact our friends or family. However, if you are a gamer, the best app that allows you to communicate while playing a game online is Discord. Discord comes up with lot of interesting functions like you can add and change your Discord playing game status.
Its emergence is as unique as the app itself. Although now a popular application, but its idea first emerged after the failure of a game "fates forever."
It was after this game that didn't form an impression on the mobile market due to the difficulty of communication while playing the game that got people thing. Thus the developer Jason Citron came up with the idea of a VoIP application, dedicated for gamers.
They then created Discord through which gamers could easily focus on playing games instead of having to divide attention between online chat box in the background and the game screen. This app proved t proved to be a success, although it sure has some shortcomings such as:
Abuse issues in chats
Home to white supremacist
History of The neo-nazi problems
Therefore, if you merely want to change to a new application due to any reason whatsoever, here is how you can delete your discord account. However, you can take a break and disable it too.
How to Disable Discord Account
Discord also provides an option to disable your account, just like every other social media application. Therefore, if you wish to step back for a bit, then it is better to disable your Discord account instead of deleting it.
This way, you will be saved from a lot of hassles once you do decide to return to it. The following steps can help you disable your Discord account:
1. Open the Discord app on your screen
2. After you have logged in go to User settings (Cog Icon)
3. Form the User Settings click on My Account tab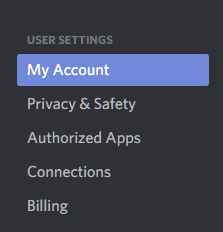 4. Here choose "edit your account."



5. Here there is an option "Disable Account."
6. Click to disable an account

Disable Account on Mobile
Disabling Account on PC is relatively easy. However, it is not easy to do so on Android or iOS. There is no specific option available to disable your account through a mobile device. Although the choice is possible if you follow the following steps:
Look up for the Discord app on your mobile
Log in and open in the servers list by clicking on the triple white lines present on the top left corner of the screen.
Open the user setting by clicking on the Cog icon
On this screen, click on Account and then click on the triple white dots present on the top right corner.
Here the option to Delete the Account will appear
Although the option is undoubtedly available, if you select it, it directs you to an open support page. Here the similar steps as mentioned above are present to guide you on how to delete the Account.
However, if you want to disable or delete the account, you will have to request in with the support. Another way possible for you to do this is by going on the Discord Official account on Twitter.
How to Delete Discord Account Permanently
Have caved into letting go of Discord, and want to delete your Account? In that case, follow the same procedure as of disabling. Here, with the option of disabling, you will find the delete account option. Just click on it to get the work done.
Here are the steps for your convenience.
Open the Discord app
Log in and open the User settings that is the Cog Icon
Once here tap on My Account
In the My Account tab, you will find the option to edit your Account. Here at the bottom, the option to "Delete" the Account is present.
Once you click on the delete account option, you will be prompted to type in your password. And if you have it set up, there would be a 2FA code too that you will have to fill out to complete the process.
Transfer Ownership of Discord Account
However, things may not be so simple for all of you out there. That is if you are an owner of one or more servers, then you will have to follow some necessary steps to delete your Account finally.
Being the owner of a server is a responsibility. If you have that responsibility over you, then you cant opt to use Discord. You will, therefore, have to transfer the ownership to any other person who will be willing to take such responsibility
To transfer the ownership of Discord account to another member follow the given steps:
Open the Discord app if you did not have it opened up already.
Here click on the server name and from there open the Server Settings
Once done with that, open User Management from the menu present on the left side of the window.
Find and click on the "member" option that is present under the User Management window
Here you will find the list of all the member that is present in your server. It is now upon you that who do you consider capable enough to take the ownership. Once you have decided your successor, hover over the user name of the member and click on the three vertical white dots
A dialogue box would have appeared. Click on Transfer ownership to complete the process.
Once you have completed the transfer of the Discord account, you will become a regular member. All the restriction that is applied to another member will also be applied to you. However, you have the freedom to abandon Discord which you previously didn't have.
In case you don't have anyone who thinks is capable enough to handle the ownership then you can delete the server. For this:
Go to server settings
From the left menu scroll down past User Management to Delete sever.
Chose this option to get rid of your responsibilities.
Deleting the server may require you to type in your password and two-factor authentication.
Final Words
Discord is a great app to use. However, using it or not is entirely up to you to decide. Now that you know how to delete or disable your Discord accounts, you can choose whatever you want.