How to get Green Dye in Minecraft? Here's everything you need to know!
Whether you want to change the color of your bed or your pet's collar, green dye in Minecraft is quite helpful. You can simply make the dye and change the color of several of your belongings. The entire process of finding the suitable materials to smelting them to create your desired item is fun, especially when it's something as cool as a green dye. So here's a guide with all the steps to help you make your new material. Just follow all the steps, and you'll be good to go!
Materials you need
Before we dive into how to get green dye in Minecraft, let's discuss the materials you need for it and how to get your hands on them.
The materials you will require to craft your desired dye are a cactus, a furnace, and a fuel source. All of them are pretty easy to get.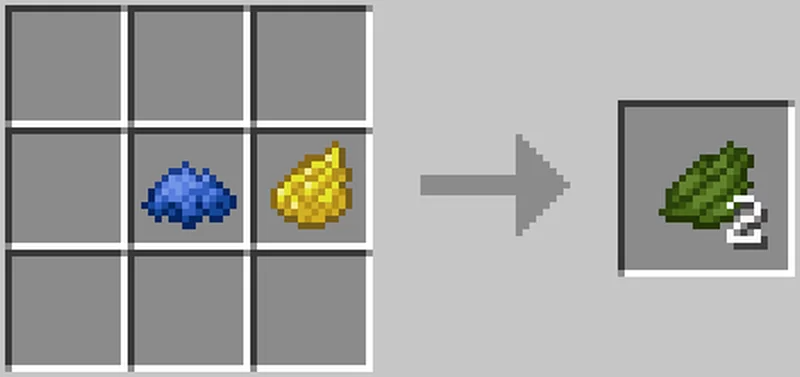 To get a cactus, you should go to a desert biome. There are several cacti there. A cactus with its green color stands out in the sand, and hence, a player can easily spot it. Once you spot your required green tree, go towards it and break it by hand. Moreover, there is a high chance for Minecraft players to get cactus by opening a chest found in a desert house.

Related: How to Make an Anvil in Minecraft? 
But if you find it challenging to get a cactus yourself, you can simply buy it from a wandering trader for three emeralds. However, we advise you to save your emeralds for other valuable things and find the cactus yourself.
How to make Green Dye in Minecraft?
First, open the furnace so that you enter your materials in its menu. Then, add your choice of fuel, such as coal,, to the bottom box and a cactus block in the top of the furnace menu. The flames will light up, showing the two materials are getting smelted together to form your new item. Finally, your green dye will be made. You can now grab it and move it into the inventory.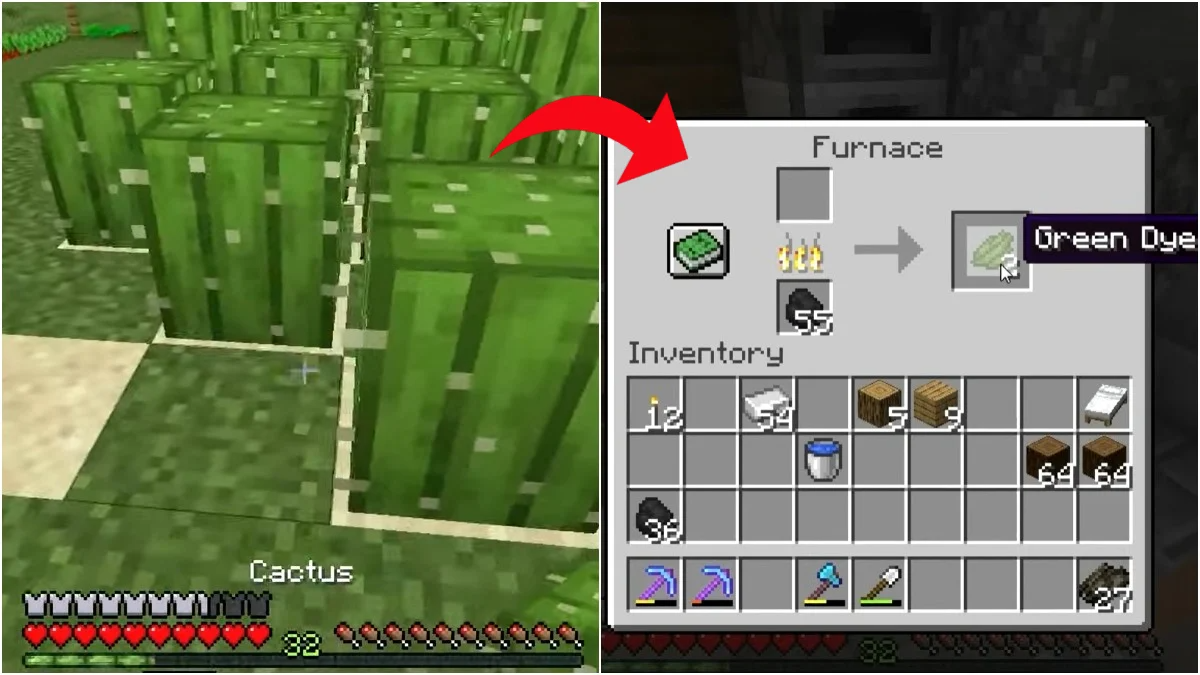 Can you buy Green Dye in Minecraft?
Minecraft players can buy the green dye from an expert-level shepherd villager. He has to pay one emerald and get 12 pieces of the dye. Moreover, you can also purchase three pieces of it from a wandering trader for one emerald. Either way, making your own green dye is better than using an emerald to purchase it. After all, several useful and rare things in the game require emeralds.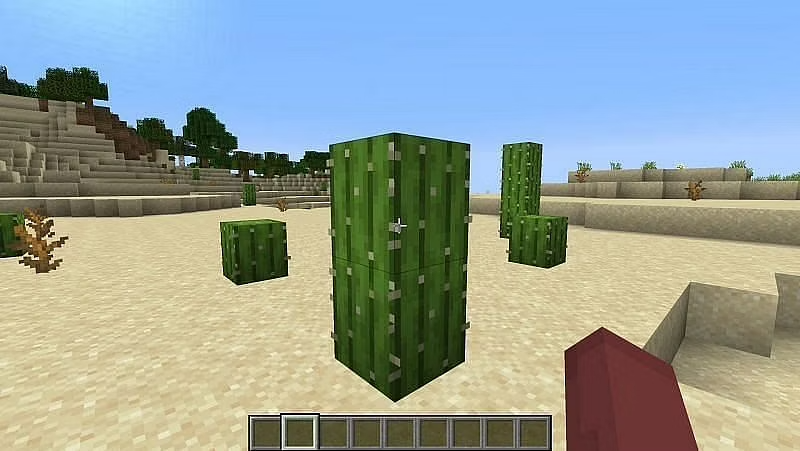 Uses of Green Dye
There are several uses of green dye in Minecraft. It can be used to make colored wool. A player must apply the green dye to the sheep, automatically making its wool green. Then, the player can shear it for 1-3 blocks of green wool. Collars of pet animals such as cats and wolves can also be made green by using the dye.
Related: How to Tame a Cat in Minecraft?
Moreover, wool, leather armor, water contained in cauldrons, beds, glass, terracotta, and shulker boxes can also be stained. Additionally, the green dye can make banners prettier by adding patterns. Furthermore, cyan dye can be crafted with the help of it and Lapis Lazuli.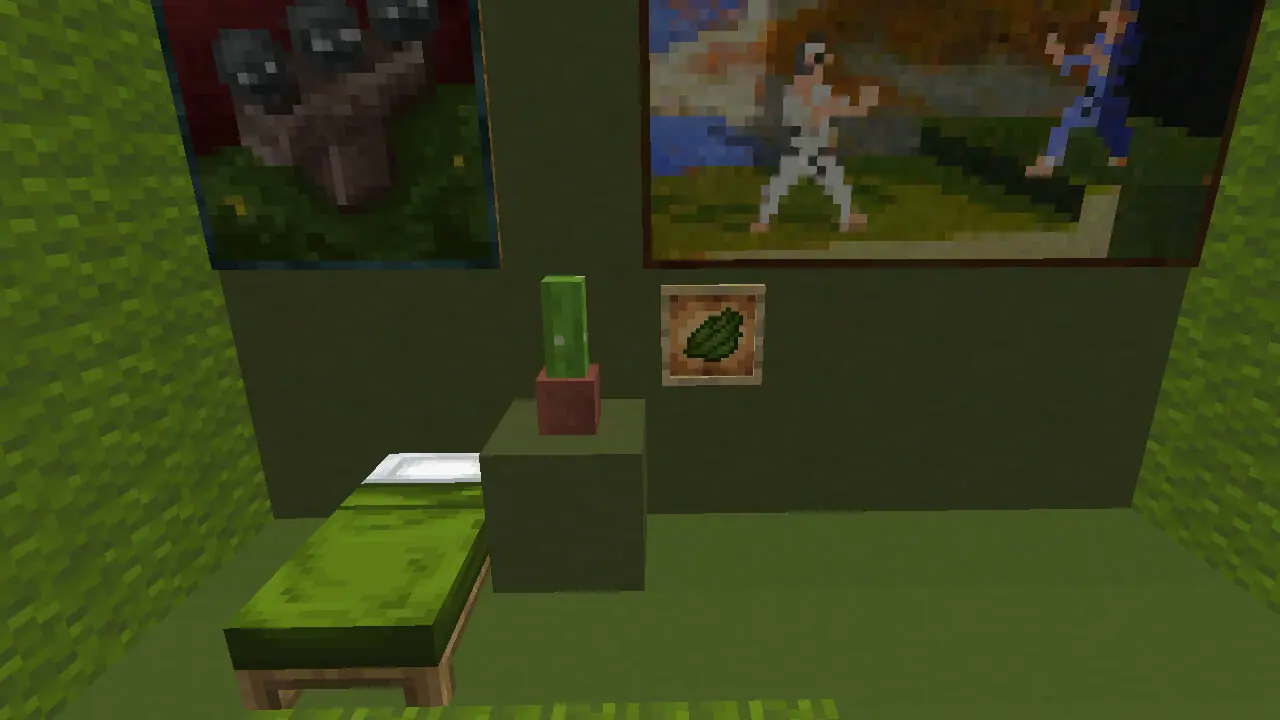 It can also be combined with gun powder, resulting in a firework star. Then the firework star can be combined with another green dye to result in a fade-to-color effect. In addition, the concrete powder can also be made with it in combination with sand and gravel.
Related: How To Make Terracotta in Minecraft?
You can make balloons or glow sticks in bedrock and education editions by combining the green dye with compounds.