When facing the need to edit a video, you might wonder, "Which video editors should I use? What editing software do YouTubers use? How do YouTubers edit their videos?" Good shooting is the foundation of a successful result. However, video editing is a process that allows you to create the necessary dynamics and impressions, engage the audience, call for action, and deliver a message.
What Editing Software Do YouTubers Use?
What do YouTubers use to edit their videos that get millions of views? To answer this question, we need to make a thorough review of famous vloggers' popular software types.
What Do YouTubers Use to Edit Videos?
It is difficult to say which software is the best option; after all, users base their choice on different criteria. Some people need a simple and user-friendly interface. Some need professional software with advanced features. Others will only use free programs with limited functionality.
The Internet readily offers long lists of paid and free video editing tools, from professional video editing studios to simple mobile apps. However, making a vlog is a challenging, creative process that requires different software tools depending on your tasks, skills, and creative thought scale. Here is a comprehensive review of video editors for YouTubers that are the most popular in today's media landscape.
Movavi Video Editor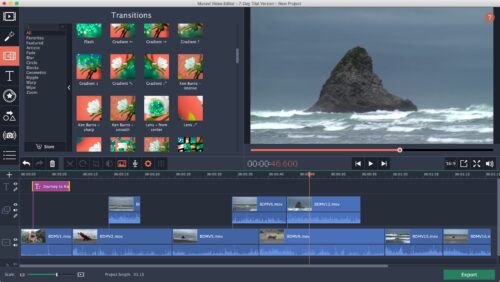 Before uploading a video to the web, you need to edit it. But what video editing software do YouTubers use? Often, people download the most popular professional software. Usually, they hear about those programs from vlogging stars. However, not everyone can find their way around a wide range of settings, effects, and complex features. It takes a long time to learn how to handle even the basic tasks of the professional tools that are designed for expert-level users.
Software by Movavi is designed to be friendly for beginners, with Movavi Video Editor being one of the most popular and loved products in the selection. It allows rookies to learn even its advanced features in quite a short time. In the first few minutes of working with this editor, you will be able to make high-quality, albeit simple, videos.
Movavi Video Editor provides a collection of the main and frequently used tools in a single app presented in the most user-friendly way.
Movavi Video Editor: Key Features
Movavi Video Editor's capabilities include:
Movavi Video Editor provides all the basic audio and video editing tools: trim and cut, rotate and crop, multi-track edit function, etc.
On their website, the creators specifically point out some cool features like Hollywood-style effects, filters, transitions, fades, high-grade titles, and stickers created by professional designers.
There is a quick video feature that automatically creates a video with preselected music and photos.
The editor supports the working process on up to 99 tracks on the Timeline.
The conceal and highlight features are also available for Movavi users.
Movavi Video Editor processes 4K, Full HD, and large HD videos at high speed.
Once you start working with the software, 39 built-in music tracks, 20 clip samples, and 16 ready-to-use intros and outros will already be provided.
You can also find 15 Montage Wizard Themes and keyframe animation of overlay video, titles, etc.
With Movavi Video Editor, you can perform a variety of editing tasks:
Create video clips from fragments with different bitrates that are automatically transcoded when saving
Capture only video or only audio from media files
Improve video quality: sharpness, contrast, smooth roughness, eliminate fluctuations, etc.
Use a lot of special video and audio effects
Save your video in a great variety of formats
Movavi Video Editor: Pros
These are the characteristics of Movavi Video Editor that are most appreciated among users:
Extremely user-friendly interface. All the tools have clear names and purposes. The software navigation is simple and intuitive. It is without a doubt a great choice for beginners.
A wide range of tools. Although it is a great option for video editing rookies, more experienced users will find various advanced features like video stabilization and chroma keying.
Huge media library. Movavi Video Editor provides an impressive set of video and audio files, texts, effects, and navigation templates. It allows you to polish your videos and give them a unique touch.
Multi-platform software. There are Windows and Mac versions of the program.
Low cost. Movavi Video Editor is significantly cheaper than professional apps and tools.
Movavi Video Editor: Cons
When selecting Movavi Video Editor, keep in mind that it has:
A short free trial period. Unfortunately, you can have free access to the software for only seven days. You will get only limited functionality during the trial period. The videos will be transferred with watermarks and missing clips.
No DVD burning option. You won't be able to burn a DVD with your video using Movavi Video Editor.
No download option. You also won't be able to download a video from the Internet for further editing in Movavi Video Editor.
iMovie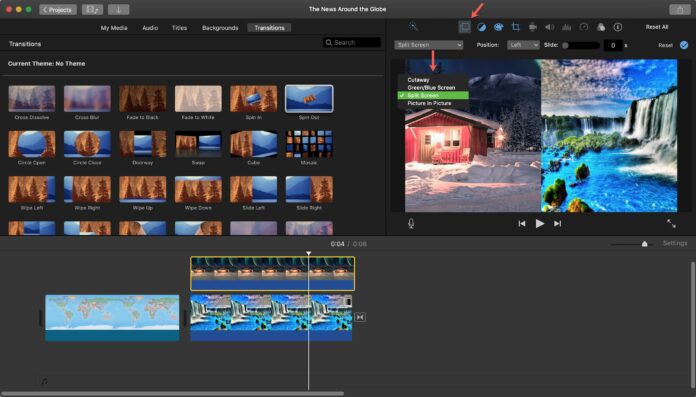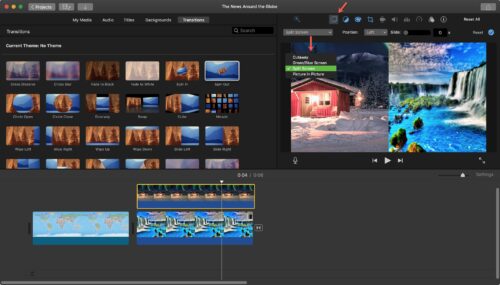 If you are asking yourself the question: "what video editor do YouTubers use?" – iMovie is one of the options. It is an Apple product available for any Apple device manufactured in the last decade: iPhones, iPads, and Macbooks. You can download the software from Apple Store for free, and it's synchronized with iCloud.
iMovie: Key Features
iMovie is a video editor YouTubers use due to its functionality:
The program allows you to edit video from different types of cameras, encoded files, and images and gives plenty of ways to create unique movies.
The editor provides 8 music themes, 10 Apple video filters, transitions, credit features.
Users get access to different effects: picture in picture, slow playback, split-screen, and fast-forward/rewind.
iMovie provides lots of tools for creating soundtracks and Hollywood-style trailers.
iMovie: Pros
You will appreciate the following iMovie characteristics:
iMovie is considered a good option for beginners. It has a user-friendly interface and convenient navigation, and it is free for Apple users.
The editor is known for its organized layout for intelligent management.
You can share videos directly from the software.
iMovie: Cons
Some users note the following iMovie disadvantages:
It is limited to Apple users exclusively.
Many users report MP4 compatibility issues that make video editing impossible.
iMovie provides limited storage space. It restricts the number of projects you can work with on the platform.
Supporting only two video tracks, it has restrictions for more complicated professional editing.
Adobe Premiere Pro CC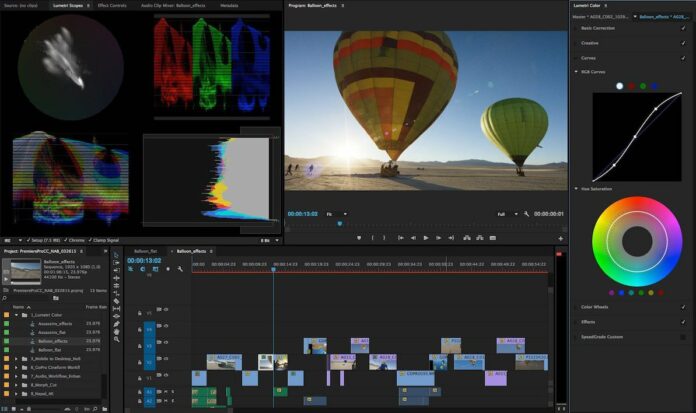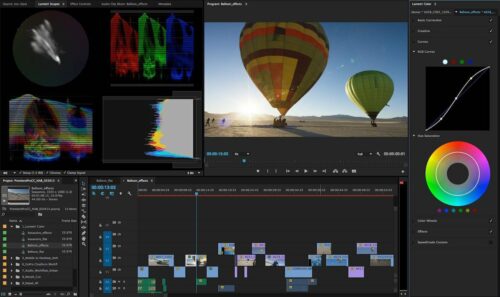 Adobe Premiere Pro CC is an industry-leading software that pro YouTubers use for video editing. It is professional software from Adobe designed mainly for experts and highly experienced users. The program can also be integrated with After Effects, Photoshop, and the full CC package. 
It is well-known due to its expert functionality and variety of tools and functions. The movie industry and leading TV broadcast companies chose Adobe Premiere Pro CC for their editing stages.
Adobe Premiere Pro CC: Key Features
Here is what you have to know about Adobe Premiere Pro CC:
Users note a simple and quite intuitive interface of Premiere Pro CC.
It provides a well-designed trimming function. You can work with clips using the keyboard or mouse.
You will find smart and easy-to-use audio functionality. Using the Audio Clip Mixer tool, you can work with key points in auto mode and record directly in the mixer.
Many users find its keyboard shortcut input an important feature. It can help you save a lot of time working on your edits.
You can save your interface and command settings to Creative Cloud and get access to them anytime, anywhere.
Adobe Premiere Pro CC: Pros
The advantages of Adobe video editing software include:
Premiere Pro CC is compatible with other Adobe products. It might come in handy for Adobe users.
It has professional functionality and an extraordinary variety of features and tools.
Adobe Premiere Pro CC: Cons
You may encounter the following disadvantages when using Adobe Premiere Pro CC:
Like other Adobe products, Premiere Pro CC is expensive.
The editor is very complex. It will take you a long time to learn its functionality.
Being a powerful software, Premiere Pro CC has lots of system requirements.
Final Cut Pro X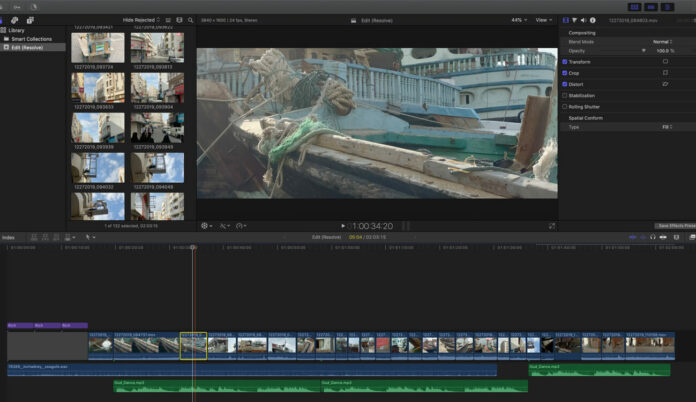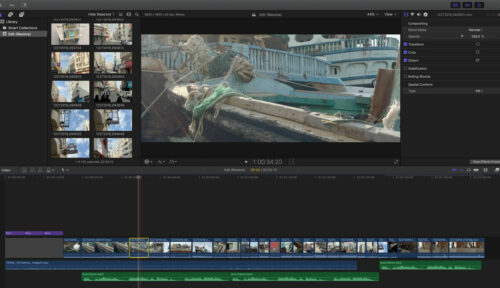 Final Cut Pro X is another Apple editing app with a well-deserved reputation among professionals and advanced users. Due to its simple and intuitive interface inherited from iMovie, great functionality, and extremely high processing speed, the software found thousands of fans among influential YouTubers. Vloggers love this program for a variety of effects, titles, and transition features. It also makes the import and export process very easy for users.
Final Cut Pro X: Key Features
The following characteristics make Final Cut Pro X stand out among its competitors:
One of the most notable features of Final Cut Pro X is its speed. The editor is optimized for handling a few 4K video streams at once and without issues. It is possible on a regular Macbook Pro.
Final Cut Pro X has an excellent built-in keying system even if the background was not perfectly lit. The software can do this with the minimum number of settings.
Another strong aspect of Final Cut Pro X is the audio correction. You can quickly and automatically remove background noise and sound peaks. More than 1,300 preinstalled sound effects and excellent track synchronization function make sound editing an easy and enjoyable task.
Color correction is also a big deal in this software. Final Cut Pro X can automatically balance colors, saturation, and exposure. You also have an option to do it manually.
Final Cut Pro X: Pros
Here are some things to love about Final Cut Pro X:
Unlike many other professional tools, Final Cut Pro X has a simple and user-friendly interface.
It is recognized as the fastest video editor.
It supports a huge number of audio and video formats.
Final Cut Pro X: Cons
These features may be a disadvantage for your user experience with Final Cut Pro X:
It is supported only by Macbooks. It is not available for other operational systems.
It is quite expensive for its functionality.
Final Cut Pro X is not recommended for beginners. You need to have some expert or at least advanced skills to use its functionality.
All the reviewed video editors are available to download from their official pages:
www.movavi.com
www.apple.com/imovie/
www.adobe.com/products/premiere.html
www.apple.com/final-cut-pro/
The companies provide customer support and tutorials for beginners.
What Other Video Editors Do YouTubers Use?
Although some programs are the obvious winners in popularity among most YouTubers, you might also consider other interesting options when looking for software that would work best to edit videos for you. Here is the list of less popular editing apps and tools that, nonetheless, deserve attention.
JahShaka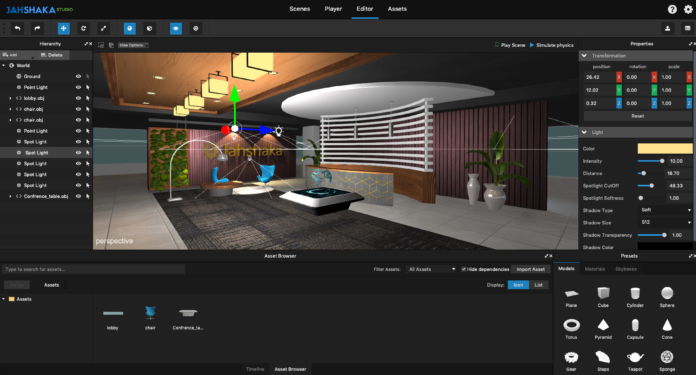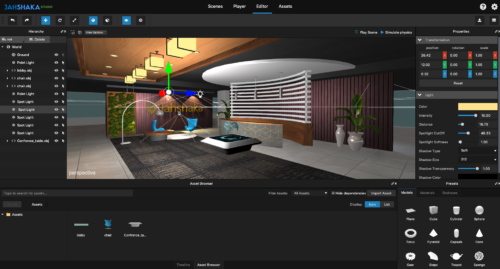 JahShaka is a multi-platform for non-linear open source video editing. It is available in OS X, Windows, and Linux. Innovation is the main feature of this software. It was the very first program that could edit video data in real-time (due to hardware implementation of OpenML and OpenGL technologies).
JahShaka's key features include:
A great number of special artistic and animation effects, including 3D effects
Support of pretty much all existing formats and resolutions
3D support
Film colorization function
A powerful built-in audio editor that helps to create your own music and handling sound at a professional level
Composite image generation modules
Export and stream over the network functions
Enough functionality to create animated movies of any complexity
However, do note that JahShaka is designed for experienced users with advanced skills. It takes a long time to master its full functionality. And many users report technical issues and unstable processing, even working with small projects.
Pinnacle VideoSpin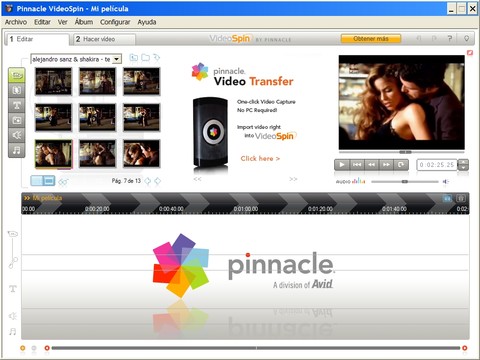 Pinnacle VideoSpin is a simple and free tool for amateur video editing developed by Corel. With this software, you can create simple video clips from separate frames and individual graphics. The software supports basic audio editing features. However, Pinnacle VideoSpin includes a preinstalled library with multiple video and audio effects. If you are looking for a very basic video editor for Windows 7 or 8, Pinnacle VideoSpin is a good choice to meet your expectations.
The key features of Pinnacle VideoSpin are:
Maximum simplicity with a large number of functions
Data import from various devices
Movie preview after each change and at any editing stage
Support of MPEG, AVI, Windows Media, and RealVideo formats
Video upload directly to YouTube and Yahoo
Most users mention that the program has overall limited functionality. It is a good option for short, simple video clips, but it won't allow you to make professional visual content. Many users report unstable processing and saving issues.
Davinci Resolve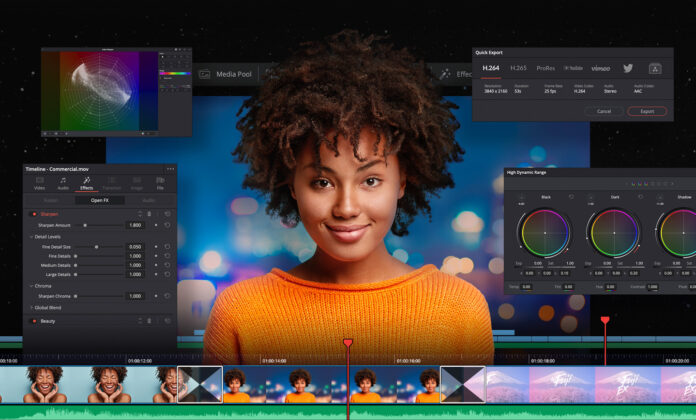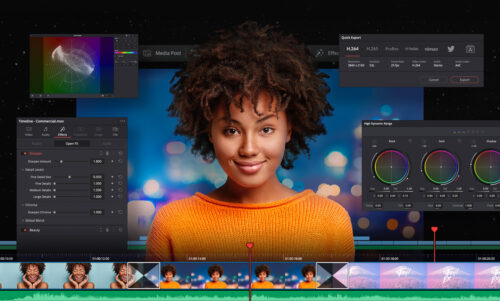 Davinci Resolve is a free, non-linear video editor with powerful color correction functionality.
It proved itself as a professional tool for video editors and colorists. It was used in production and post-production in movies Avengers: The Infinity War, Ant-Man and the Wasp, Deadpool 2, Jurassic World: The Fallen Kingdom, and many others.
Most YouTubers using Davinci Resolve first point out its very powerful color correction functionality. For example, it has a tool that automatically tracks the faces and changes the brightness of the eyes, adjusts the skin tone, and even changes the complexion slightly without affecting the rest of the frame.
Davinci Resolve features the following:
Free software, quick registration
3D graphics and a variety of visual effects
Tools for keying, compositing, animating, stabilizing the picture, adding particles, and more
Simple and intuitive interface suitable even for beginners
Supports Windows, Mac OS, and Linux
Professional color, sound, and special effects
Easy to master
Nevertheless, Davinci Resolve has its cons. For instance, due to its professional functionality, it has high system and hardware requirements. It limits their user audience to those with professional and very expensive computers.
Sony Vegas Pro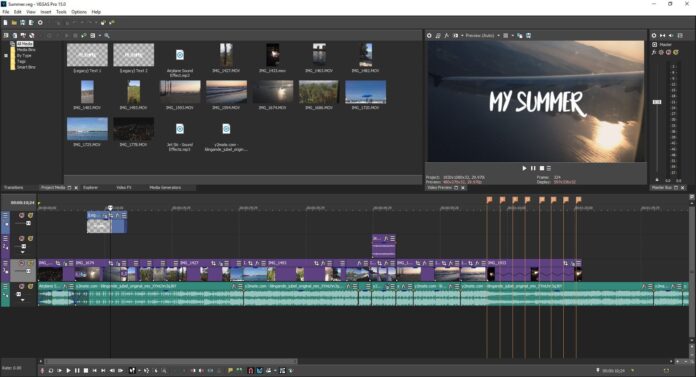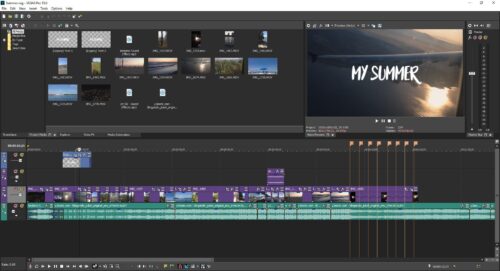 It is another interesting option for video editing. At first, Sony Vegas Pro might seem too complex, but if you invest a bit of time learning, it might offer good functions and tools. The software is quite popular among vloggers, mini-series and video clip creators, and web-developers. Sony is known for making each of its products different from equivalent products from other companies, so the program has several features that other video editors don't provide. For example, Sony Vegas Pro can time-in VOB files from DVD media. It also offers several unique effects and transitions you won't find in other programs.
Here are the key characteristics of Sony Vegas Pro:
Developed according to the latest Sony technologies and innovations
High-resolution video processing up to 4096×4096
Supports most of the common formats
Configuration of custom templates to simplify and speed up the video editing process
Direct burning to DVD or Blu-ray
Since it is an original Sony product, many users find it difficult to master its full functionality, and it takes a long time to learn the program. The latest versions are very pricey. And the software requires the latest OS and hardware.
Summary
There is a variety of software available for those who are interested in video editing. Thus, whether you are a beginner or a pro, there will definitely be a suitable option for you. Choose what fits your needs best and start creating!