Quordle is a new and more challenging take on the extremely popular game Wordle. The premise is pretty simple; you get nine chances to guess four words that consist of five letters each. Thus, the game is four times as hard as the original title, and it'll definitely put you in a sticky situation. 
Quordle releases new challenges every day. Are you unable to guess the Quordle Answer Today? Do You want a few hints to figure it out? Keep on reading to find out everything there is to know about Quordle. 
What is the Quordle Game? 
Quordle is a spin-off of Wordle, which is four times as intense as the viral game! It requires you to guess four words in succession successfully. Each word consists of five letters. 
In Wordle, players get six guesses to figure out a five-letter word. Similarly, Quordle gives you nine guesses to figure out four five-letter words instead of a single one! This makes the game extremely challenging, and only experts can get it right! Thus, if you are interested in playing an intense head-scratching game, give Quordle a try, and we are sure you will love it!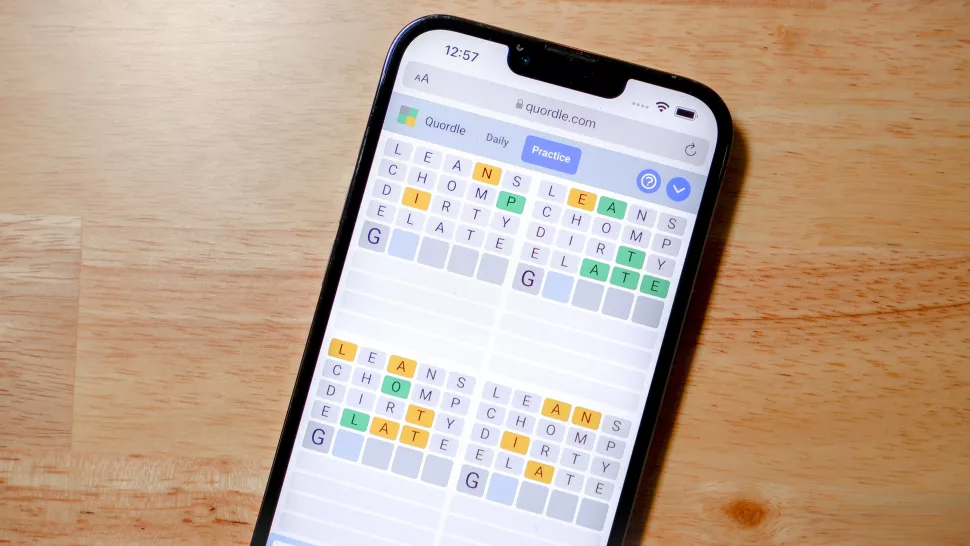 How do you play Quordle?
Quordle follows the same rules as Wordle. You get a total of nine attempts to try your luck at guessing all four words at once before you run out of chances. Enter a five-letter word into one box. It applies to all four boxes, and the correct alphabet in each one gets flagged green. Alternatively, incorrect alphabets are highlighted in grey, while those that are correct but in the wrong position are highlighted in yellow. 
The four grids are separate, but you can't enter letters into individual ones. All your guesses will apply to all the grids, and you must guess all four words simultaneously in nine attempts.
You can play the game for free on the official Quordle website; https://www.quordle.com/#/. Alternatively, you could also play the game on the official app, which is available for download on the app store and play store. 
Hint and Quordle Answer Today
The Quordle Answer Today for contains the following alphabets B, S, V, L, L, K, A, I, A, U, U, E, S, L, N, G, T, L, T, E.
Quordle Answer Archive
Here are the Quordle Answers for the past 30 days, 
31st May 2023 – APRON, UNDER, ALIKE, FRUIT
30th May 2023 – CADET, RIPEN, BREAD, CREED
29th May 2023 – ANNOY, ELECT, STALE, TURBO
28th May 2023 – GULLY, RISEN, CHAFE, CHEAT
27th May 2023 – GRASS, BELCH, CROWD, SHOWN
26th May 2023 – ALARM, PAUSE, COLON, BURLY
25th May 2023 – ALARM, PAUSE, COLON, BURLY
23rd May 2023 – WIDER, AWAIT, CROSS, MEATY
22nd May 2023 – EAGLE, SLICK, SOLID, TAKEN
17th May 2023 – SKIMP, GLEAN, PAYEE, BRAVO
16th May 2023 – HARRY, COLON, SHEAR, LARVA
15th May 2023 – ULCER, APNEA, CANDY, ADULT
14th May 2023 – CLONE, SKUNK, SWEPT, SASSY
13th May 2023 – TRACT, PREEN, BUDGE, SNARE
12th May 2023 – HONEY, CYNIC, DAUNT, CHIRP
11th May 2023 – CRYPT, DUNCE, WHEEL, NOBLE
10th May 2023 – PRINT, VICAR, GAFFE, PLAIT
9th May 2023 – PROSE, MUNCH, PIVOT, CONDO
8th May 2023 – PUSHY, GRIPE, BLOAT, ASSET
7th May 2023 – SCALD, TABBY, STYLE, TEASE
6th May 2023 – RADIO, BURST, TOUCH CREAK
5th May 2023 – LIMBO, REVUE, TOTEM, ELBOW
4th May 2023 – BALER, SCORN, FETID, PASTE
3rd May 2023 – GODLY, LAGER, STEEL, GROWL
2nd May 2023 – CROSS, MOULT, STAIN, TATTY
1st May 2023 – ETHIC, ALIKE, BIRTH, SLAIN 
30th April 2023 – STOUT, GROUT, RALPH, RIGOR
28th April 2023 – TRITE, SLEEK, ALTAR, VOTER
27th April 2023 – QUASHI, PLUSH, CHUTE, SOAPY
26th April 2023 – PARKA, SPINY, BUSHY, CHAIR
25th April 2023 – CHEST, SHRUB, CREDO, BELOW
24th April 2023 – DEUCE, BEAST, NOISY, YOUNG
23rd April 2023 – FALSE, LUSTY, EMPTY, FLESH
22nd April 2023 – LIMIT, IRONY, TERRA, ARBOR
21st April 2023 – WARTY, SEVER, KNAVE, PUBIC
20th April 2023 – JELLY, PRONG, GLOBE, BLOOM
16th April 2023 – SLATE, BENCH, QUASH, FOGGY
4th April 2023 – OUNCE, WHINE, FROCK, POSIT
3rd April 2023 – TURBO, WHOLE, LIGHT, SPRIG
2nd April 2023 – WHOSE, SUPER, SHARK, FABLE
1st April 2023 – GODLY, MOTOR, EPOXY, HEART
31st March 2023 – CHOIR, TUBAL, SCOUR, PARRY
30th March 2023 – ALIBI, REACH, ACRID, QUARK
29th March 2023 – MOIST, BRAND, FAITH, ADMIN
28th March 2023 – SUGAR, FIBRE, DITTY, TRIAD
27th March 2023 – READY, REVUE, BELOW, HASTE
26th March 2023 – AWAIT, DROVE, MORAL, REEDY
25th March 2023 – AWOKE, THESE, LEASE, DITTO
24th March 2023 – COUCH, APRON, BROTH, TITHE
23rd March 2023 – CROSS, SAUCE, DOING, USUAL
22nd March 2023 – FAULT, ADAGE, SOOTH, HABIT
21st March 2023 – WRING, SCRAP, THIRD, NOBLE
20th March 2023 – BISON, BOTCH, ABHOR, GLINT
19th March 2023 – KNEEL, COBRA, LINER, DEBUG
18th March 2023 – CLUED, STAVE, CRANE, EMPTY
17th March 2023 – STUFF, DEBUT, FORCE, RUPEE
16th March 2023 – GRUNT, ODDLY, UNWED, AVOID
15th March 2023 – SINCE, USURP, RADIO, SWORN
14th March 2023 – SATIN, SCOFF, CRASH, SMIRK
13th March 2023 – CHOCK, MAXIM, LOOPY, ERODE
12th March 2023 – TENOR, BOULE, ELOPE, SHOWY
11th March 2023 – BEVEL, SONAR, EXILE, RENEW
10th March 2023 – ENJOY, SPOOF, NASTY, DEALT
9th March 2023 – MOLAR, MARRY, OPTIC, DROLL
8th March 2023 – JUICE, SPRIG, FAITH, PENNE
7th March 2023 – ATOLL, SAUCE, BROOK, CRAWL
6th March 2023 – ANNOY, FLUSH, ISLET, AWAKE
5th March 2023 – GRACE, LATHE, HENCE, STONE
4th March 2023 – LAGER, MARRY, FINCH, CREPT
3rd March 2023 – SLYLY, ABOVE, OUNCE, CRAWL
2nd March 2023 – FLYER, HOTLY, FREED, RALLY
1st March 2023 – FLAIR, EVOKE, OTTER, WRIST
28th February 2023 – SHEAR, ORGAN, MURAL, COUCH
27th February 2023 – AMBER, LAYER, CRUDE, DITTY
26th February 2023 – CIVIC, KOALA, STINT, RARER
25th February 2023 – CONIC, OMEGA, CADET, CANNY
24th February 2023 – RIVET, CREAK, CACHE, CHILL
23rd February 2023 – DRAFT, JERKY, DOZEN, BLINK
22nd February 2023 – AMAZE, TOKEN, MANGA, BOOZY
21st February 2023 – LOYAL, CAMEL, ODDLY, QUITE
20th February 2023 – CLEAT, BLESS, TODAY, CONCH
11th November 2022 – MASON, REIGN, UNIFY, LEASH
10th November 2022 – CARAT, ADOBE, HELLO, SPOUT
9th November 2022 – STEED, CLASH, SCOUT, INLET
8th November 2022 – LEAKY, DRAIN, MUCKY, WHISK
7th November 2022 – DOUGH, SPORT, GRACE, CIRCA
6th November 2022 – JOINT ,REFIT ,TESTY ,STEIN
5th November 2022 – SHIRT, AWOKE, VAUNT, ULTRA
4th November 2022 – CHECK, ACORN, NERDY,ROUND
3rd November 2022 – UTTER, LIGHT, FRITZ, AORTA
2nd November 2022 – CRICK, PENNE, MANLY, GLADE
1st November 2022 – CHAIR, MAUVE, ABBOT, STILT
31st October 2022 – IDLER, BERTH, ORBIT, FETCH
30th October 2022 – SOAPY, BROOM, MISSY, OVINE
29th October 2022 – CRUEL, TRUNK, SUITE, ALLOT
28th October 2022 – IDEAL, CHESS, SHADY, SHAWL
Quordle 243- September 25th, 2022 – DONUT, GNASH, RECUR, SHYLY
Quordle 242- September 24th, 2022 – HAREM, GAILY, TRITE, KNEAD
Quordle 241- September 23rd, 2022 – SHOWN, NEIGH, BLOOD, RANGE
Quordle 240- September 22nd, 2022 – ADEPT, PLEAD, COMET, DECAL
Quordle 239- September 21st, 2022 – UNITY, GLOOM, TROPE, LEMUR
Quordle 238- September 20th, 2022 – LOFTY, FEIGN, CHEST, BERTH
Quordle 237- September 19th, 2022 – ARTSY, UNDID, LEANT, AMEND
Quordle 236- September 18th, 2022 – SHAKY, PSALM, BELLE, STAGE
Quordle 235- September 17th, 2022 – BLEED, RENAL, BUXOM, STALL
Quordle 234- September 16th, 2022 – THROB, COYLY, ENSUE, ABOVE
Quordle 233- September 15th, 2022 – ATTIC, EBONY, STAFF, CONCH
Quordle 232- September 14th, 2022 – ANGLE, CIGAR, STILT, CAPER
Quordle 231- September 13th, 2022 – HEIST, DROWN, ALGAE, BELLE
Quordle 230- September 12th, 2022 – SNEAK, OTHER, VERSE, BADGE
Quordle 229- September 11th, 2022 – MINCE, RACER, BILLY, ULCER
Quordle 228- September 10th, 2022 – CHAFF, LOWLY, SWORE, PAPER
Quordle 227- September 9th, 2022 – CLUMP, POUND, AISLE, WINCH
Quordle 226- September 8th, 2022 – DEVIL, MURAL, SNEAK, LEGGY
Quordle 225- September 7th, 2022 – GLAZE, FLINT, STOOP, ABUSE
Quordle 224- September 6th, 2022 – TODAY, DWELL, WRING, TACIT
Quordle 223- September 5th, 2022 – SOLAR, QUELL, SHUSH, SHARE
Quordle 222- September 4th, 2022 – GOODY, SHAKY, BITTY, DIMLY
Quordle 221- September 3rd, 2022 – ZESTY, STICK, GIVEN, GOODY
Quordle 220- September 2nd, 2022 – TIBIA, FLAKY, MISER, GRATE
Quordle 219- September 1st, 2022 – WORST, NUTTY, REACT, SNIPE
Quordle 218- August 31st, 2022 – TREND, AMAZE, SAUCE, THINK
Quordle 217- August 30th, 2022 – BROAD, BRACE, HIPPO, GOOEY
Quordle 216- August 29th, 2022 – COUNT, BUGGY, LOAMY, CLOSE
Quordle 215- August 28th, 2022 – CLINK, BELIE, SAUTE, LOCAL
Quordle 214- August 27th, 2022 – USURP, GORGE, HAVEN, CANAL
Quordle 213- August 26th, 2022 – SPANK, FERRY, KOALA, CROWN
Quordle 212- August 25th, 2022 – STALK, TRACK, GAUZE, CHAFE
Quordle 211- August 24th, 2022 – PURSE, GUIDE, DAISY, FLAIR
Quordle 210- August 23rd, 2022 – CRONY, CLEAN, REGAL, HASTY
Quordle 209- August 22nd, 2022 – PEDAL, ALLEY, EMBED, TRUMP
Quordle 208- August 21st, 2022 – TOUGH, DYING, PLUME, DOUGH
Quordle 207- August 20th, 2022 – CANNY, NOMAD, CABIN, SNORT
Is Quordle a daily game?
Quordle releases a new challenge every day in the daily mode. However, it also offers a practice mode. Here, you can play unlimited games and utilize endless opportunities to improve in the game. 
What time does Quordle reset? 
The Quordle puzzle resets every single day at midnight. Thus, regardless of your time zone and local time, as soon as your clock strikes 12 at night, the game will reset, and you can play the new daily challenge. 
What are Quordle Rules?
Here are all the Quordle Rules mentioned on the official site. 
Your guess must be a word of at least five letters.

The word should be valid. You can't create your own words with a mixture of letters in Quordle.

You should keep the colours of the boxes in mind while making guesses. 
What do colours mean, Quordle?
Quordle boxes light up in three colours after you enter a guess. The alphabets that light up green are correct. Those that are yellow are a part of the word, but their position is wrong. Lastly, those that are highlighted in grey are wrong, and they are not a part of the word. 
Each of the four grids has different alphabet. Thus, an alphabet may light up in green in one grid, but it may be yellow or grey in the others. 
How to make a Quordle Guess?
Here are a few tips to help you make successful Quordle guesses and increase your chances of winning the game. 
Begin your game with a word that uses most of the letters. Thus, you will be able to eliminate maximum letters in your first guess, which will help you in making a better guess.

Play practice games religiously before trying out a daily challenge. This will help in building your skills and getting you adapted to the game's format. 

Compartmentalize your game into two. Focus on collecting green letters for all the grids simultaneously in the first half and try to tackle each grid individually in the second half. 
Does Quordle repeat words?
Yes, Quordle does repeat answers every now and then. However, it does this after long durations of time, so you don't have to worry about the game becoming boring and losing its replayability, 
How to share Quordle?
You can share your Quordle result with your friends and family. Click on Share, followed by Share Image (for Twitter). Alternatively, you could click on the download button and save a picture of your results to share with your family group. You can also copy the image to your clipboard and share it online. 
How many Quordle challenges can you play in a day?
You can play one daily Quordle challenge. However, the practice mode has no limitations, and you can play as many games as your heart wants!