Taylor Swift fans now have their own version of Wordle, and it's called Taylordle! This fan version of the word puzzle game features Taylor's song lyrics and albums, and you can find the Taylordle Answer Today below!
The game contains all Taylor's most famous song lyrics, from wine to torture. It truly tests your knowledge of the Swift Fandom. So, give it a try and find out whether you're a real Swiftie who knows the singer's songs like the back of your hand!
To learn more about the Swift-based game, Taylordle, keep reading! We've covered everything you need to know about it, including the Taylordle Answer Today.
What is Taylordle Game?
Taylordle is a mix of Taylor Swift song lyrics and Wordle. It was created by the Holy Swift Podcast in 2022 for Taylor Swift fans who wanted the singer to be featured in Wordle.
The new game uses the same mechanics as the Wordle game. Players get six chances to guess five-letter words. 
A new challenge is uploaded daily, and players can set up a streak by guessing the correct answer every day for a couple of days, weeks, or even months!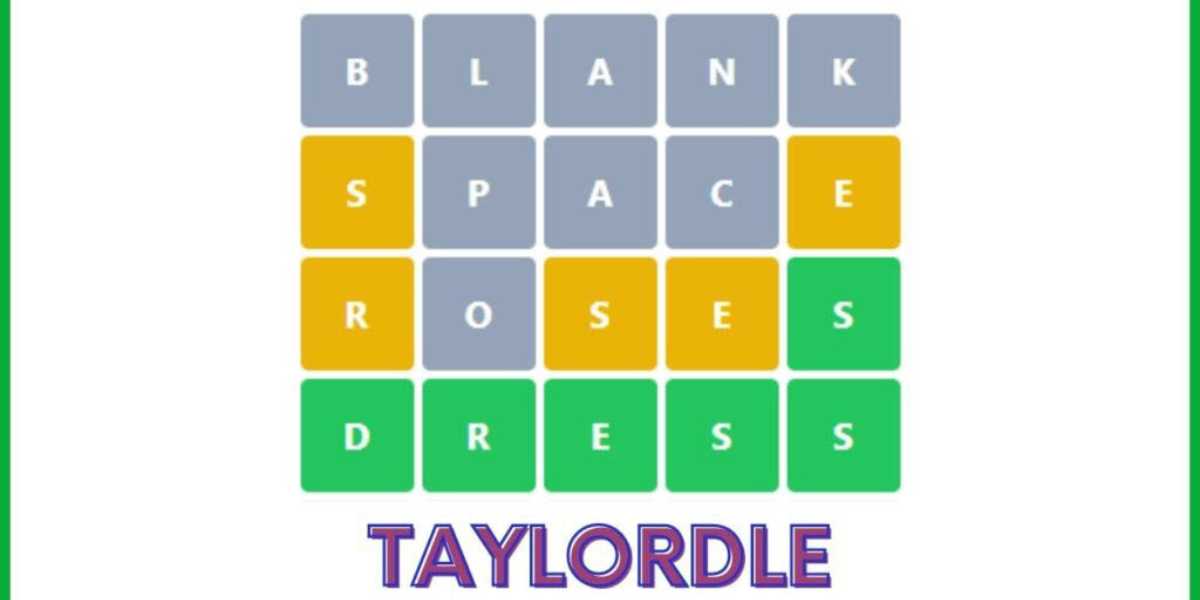 How to Play Taylordle?
Taylordle is extremely easy to play, especially if you love Taylor Swift. The words come from the Swiftie universe, including song lyrics and album names. The words range from four to eight letters, and players get six chances to guess them correctly.
You do not get any clues at the beginning of the game. You must figure out the name using the color of the tiles. If a tile turns yellow, you've used the correct letter but in the wrong position. The letter is correct and in the right place if it turns green. Lastly, if it turns grey, then the letter isn't a part of the challenge.
You can play the game at https://wordle-unlimited.io/taylordle.embed. Simply open it and begin guessing until you find the right word.
You can also turn on the Hard Mode from the settings. This mode requires you to use the color hints in your subsequent answers. This means that a box containing a green letter must have the same one for the rest of the game. Answers with green letters in different positions than previous answers are not accepted.
Hint and Taylordle Answer Today
The Hints for Taylordle Answer Today for June 5, 2023 are,
💡 It contains three vowels.
💡 It contains a letter K.
⭐The answer for today's Taylordle game is FOLKLORE.
Taylordle Answer Archive
Here is a list of all the Taylordle Answers.
June 4, 2023- LUCKY
June 3, 2023- GUITAR
June 1, 2023- PHOEBE
May 31, 2023- STADIUM
May 30, 2023- FIFTEEN
May 29, 2023- WOODS
May 28, 2023- REBECCA
May 27, 2023- WILLOW
May 26, 2023- DRIVE
May 25, 2023- GETAWAY
May 24, 2023- GRAMMYS
May 23, 2023- MONEY
May 21, 2023- CATS
May 19, 2023- DELICATE
May 18, 2023- WILDEST
May 17, 2023- REMIX
May 16, 2023- TAYLOR
May 15, 2023- FEARLESS
May 14, 2023- INDIE
May 13, 2023- BIRCH
May 12, 2023- LYRIC
May 11, 2023- CURLS
May 10, 2023- HEART
May 9, 2023- CRUEL
May 8, 2023- CONOR
May 7, 2023- HORSE
May 6, 2023- CONEY
May 5, 2023- DEBUT
May 4, 2023- STORY
May 3, 2023- KITTY
May 2, 2023- SHAKE
May 1, 2023- SWIFT
April 30, 2023- ALBUM
April 29, 2023- BLOOD
April 27, 2023- DREAM
April 26, 2023- SPACE
April 25, 2023- VAULT
April 20, 2023- SNAKE
April 19, 2023- PAPER
April 18, 2023- READY
April 16, 2023- FENCE
April 15, 2023- BLANK
April 14, 2023- LORDE
April 13, 2023- SPEAK
April 12, 2023- SKIRT
April 11, 2023- TOURS
April 10, 2023- RONAN
April 9, 2023- CLOWN
April 8, 2023- MAPLE
April 7, 2023- PEACE
April 6, 2023- KARMA
April 5, 2023- PIANO
April 4, 2023- LAKES
April 3, 2023- BECKY
April 1, 2023- LORAX
March 31, 2023- STYLE
March 30, 2023- LOVER
March 29, 2023- DRESS
March 28, 2023- KANYE
March 27, 2023- BETTY
March 26, 2023- ALWYN
March 25, 2023- EXILE
March 24, 2023- SCARF
March 23, 2023- BEGIN
March 22, 2023- RHYME
March 21, 2023- POEMS
March 20, 2023- MARRY
March 19, 2023- BONUS
March 18, 2023- CROWN
March 17, 2023- FIRST
March 16, 2023- KING
March 15, 2023- SCARS
March 14, 2023- WORDS
March 13, 2023- MAREN
March 12, 2023- PLACE
March 11, 2023- HAPPY
March 10, 2023- WOMAN
March 9, 2023- TODAY
March 8, 2023- TRACK
March 7, 2023- VIDEO
March 6, 2023- OTHER
March 5, 2023- NEVER
March 4, 2023- TROUBLE
March 3, 2023- NIGHT
March 2, 2023- CAROLINA
March 1, 2023- GRACE
February 28, 2023- KISS
February 27, 2023- MOVIE
February 26, 2023- GORGEOUS
February 25, 2023- BLAME
February 24, 2023- PHONE
February 23, 2023- PARIS
February 22, 2023- CRIME
February 21, 2023- COUNTRY
February 20, 2023- HEELS
February 19, 2023- QUEEN
February 18, 2023 – SQUAD
December 30, 2022- SWIFT
December 29, 2022- ALBUM
December 28, 2022- BLOOD
December 27, 2022- SEVEN
December 26, 2022- DREAM
December 25, 2022- SPACE 
December 24, 2022- VAULT
December 23, 2022- BENJI
December 22, 2022- RADIO
December 21, 2022- BLAKE 
December 20, 2022- CLEAN
December 19, 2022- SNAKE
December 18, 2022- PAPER
December 17, 2022- READY
December 16, 2022- JONAS
December 15, 2022- FENCE
December 13, 2022- LORDE 
December 12, 2022- SPEAK 
December 11, 2022- SKIRT 
December 10, 2022- TOURS
December 9, 2022- RONAN
December 8, 2022- CLOWN
December 7, 2022- MAPLE
December 6, 2022- PEACE
December 5, 2022- KARMA
December 4, 2022- PIANO
December 3, 2022- LAKES
December 2, 2022- BECKY
December 1, 2022- ROMEO 
Is Taylordle a Daily game?
Yes, Taylordle is a daily game. Players get a new challenge every single day. The number of challenges is limited to one per day.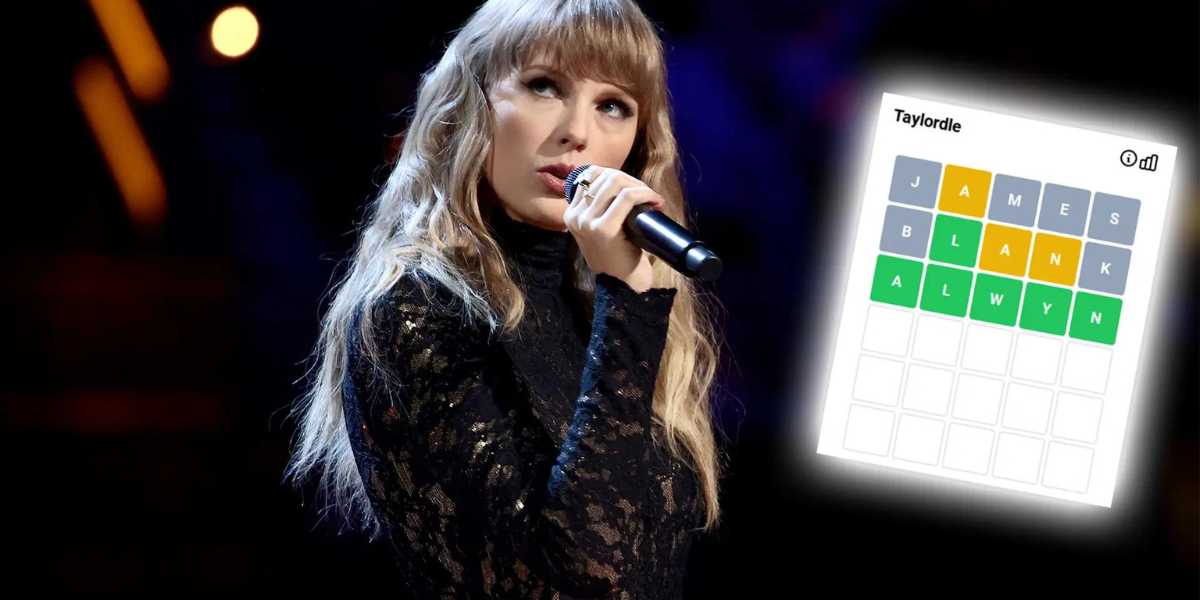 What Time does Taylordle Reset?
The Taylordle game updates a new puzzle at 12:00 AM local time. So, every time your clock hits 12 at night, your game will reset, and you can play another new challenge.
What are Rules?
Mentioned below is a list of all Taylordle Rules:
The word can be between four to eight letters.

It must be related to the Swiftie universe.

You get only six attempts to win the game.

Letters can repeat twice in a word!
What do Colors Mean in Taylordle?
Taylordle does not give you any hints at the beginning of the game. So, the only way to solve the puzzle is to use the hints given by the blocks. 
After entering a word, the blocks change color. If you've entered the right letter, it turns green. The blocks turn yellow if you've entered the right letter but in the wrong position.
The block turns grey if you've entered a letter that is not part of the puzzle.
How to Make a Guess?
Here are a few tips and tricks to always win the Taylordle game and set up a high streak.
Use the right starting word. A few good examples of starting words are given below.
Love

Blank

Suit

Wine

Smile

Lovers

Style

Heaven

Romance 

Crying

Daydream
Try to incorporate as many vowels in your first two guesses as possible. Each puzzle is bound to have one or two vowels, and figuring them out makes it considerably easier to guess the word. 
Don't repeat letters that are in grey boxes. Instead, try using different letters to guess by the process of elimination. 
Keep in mind that a word can have two of the same letters! So, don't forget such words, and include them in your guesses. 
Does Taylordle Repeat Words?
Taylordle does repeat words sometimes. However, this rarely happens, so you shouldn't rely on a repeated word as your answer. 
How to Share Results?
You can share your Taylordle results with friends and family! Simply press the share button after completing your puzzle. Now, click on any of the apps that pop up! 
The results will be shared in grid form on your social media platform or messages. This means that your friends can see the number of guesses it took you to get the right answer and the number of green, yellow, and greys boxes in your guesses! However, it won't reveal the answer to the puzzle and ruin the game for your friends! 
How Many Taylordle Challenges Can You Play In a Day? 
You can only play one Taylordle game in a day. It is a daily challenge game that resets every day at midnight with a new challenge.