Discord is something you should familiarize yourself with if you spend most of the time on the internet playing online games. This is because it's service is explicitly designed to help players communicate and coordinate with each other through text and voice chat. Communication through the powerful server, so Discord is extremely easy and smooth to execute.
The Discord app is available on various desktop and mobile platforms. Also, each app is equipped with a chat lobby, a message board and a VoIP chatting system altogether. So while you are playing League of Legends, PUBG, or Minecraft, this app helps you have the best gaming experience with your friends.
Although it provides relatively good chatting experience, however, its popularity is due to the VoIP interference it gives. This is because the latency-free calls over Discord dedicated servers are something that can't be achieved even through Skype or Google.
Also, apart from just being a mainstream chatting app, Discord allows you to see what games your friends are playing. This is either viewed manually or through clients like Steam.
This option of custom games statuses is an excellent way of telling your friends which game you are playing. Apart from that, it is a very creative way to keep things interesting as you can add a witty or funny comment on your status message. However, changing the game status on the discord app is somehow tricky. But this article gives you all the information you need.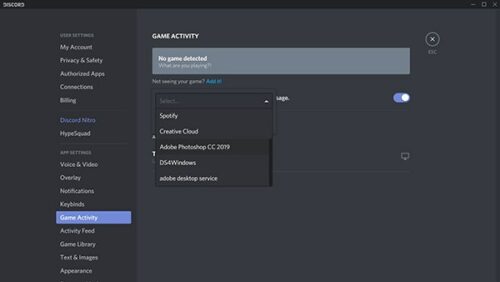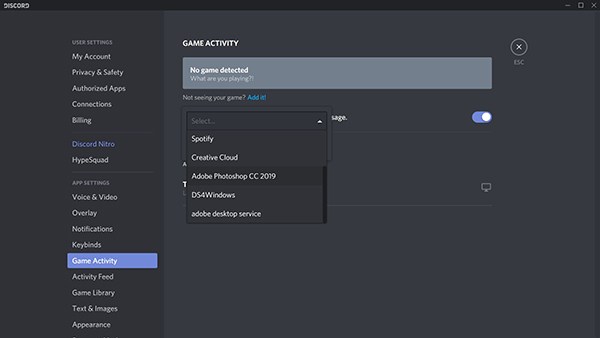 Change Your Online Playing Status in Discord Manually
Discord presents itself with four online status message options, that are available on almost every other chat platform, such as:
Online
Idle
Do not disturb
Invisible
However, this does not collaborate with your game display. Therefore to change your game display on Discord, you can follow the given steps:
Right-click on the Discord client avatar
Select your playing status from the option there
However, keep in mind that you will have to change this custom game status every time you start the app manually. This is because it will go back to automatic once you restart the app.
Manually Change your Game Status in Discord
Discord is equipped with an auto-detect system that recognizes the games running on your device. For example, if you are playing Minecraft, it will recognize the game file as Minecraft.exe and will automatically generate a custom status message of "playing Minecraft". This way, all of your friends would know that you are playing Minecraft.
However, this is only for the "verified" games or the games that are in the Discord database. This means if you are playing a game that the database recognizes, it will populate a status automatically according to the game.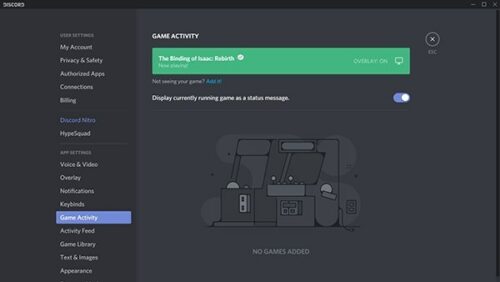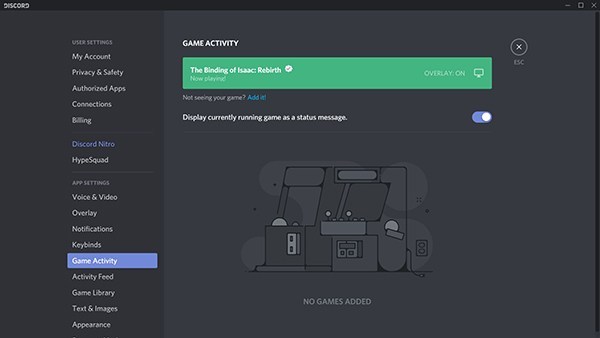 The drawback here is that there is no direct way to edit unverified games or programs. But there is a loophole available that can be used that is:
Run the game in the background > open Discord > open User Settings
In the left menu, select Games and Add it on the right.
Manually add whatever game you want from the list that is present
Type in whatever status you want in the message box.
Following these simple steps helps you achieve whatever custom game status you want. Moreover, this message remains in the status as long as the program keeps running in the background. As soon as you shut down the game, the message will change into something else.
Also, in case you don't want anyone to know what game you are currently playing, then you can turn off the game status. This is accessible through the Games menu from above. Here, there is a setting that says " Display currently running game as a status message" and toggle it off.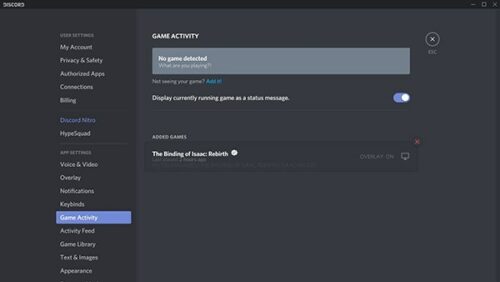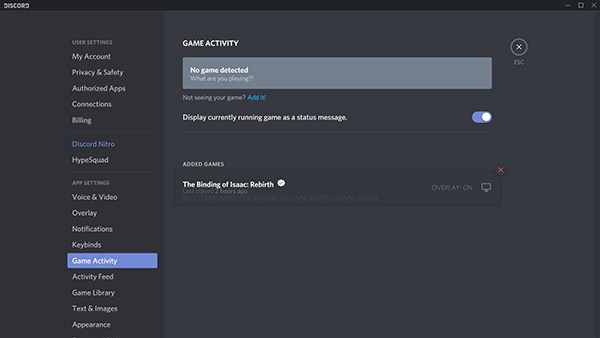 How to Change Verified Game Status in Discord
Although you have no control over the list of verified game, you do influence how it works. As the app looks at the running processes in the task manager, you can simply control what you an the world to see from there.
This is possible as you can add another program, in the task manager so that Discord detects and displays that instead oft e program you are running. For example, if you are playing League of legends for the hundredth time in a week. And you don't want your friends to know.
So, you can escape this by opening an unverified game program in the background. Discord will then pick that up and display it instead of the game you are playing.
If you want things done more naturally, you can simply do so by using applications such as Notepad++. This is a reasonably light program that uses every few resources and is currently unverified by Discord. Thus if you have it running in the background, it won't be of many burdens to you.
Also, this way, Discord will even pick it up, and through this, you can display any custom message you want to show. Once you have the message you desire on display, you can smoothly then play whatever game you want to play while all the time being shielded from the world.
However, there are no promises on if this method would work. But you can still give it a try and see for yourself. Although, discord custom game status is undoubtedly fun, the verified game status is an exciting way to play a game.
Final words
Discord is undoubtedly an epic application for gamer as well as non-gamer. With a seemingly strong chat base and an even more powerful VoIP, this is indeed a classical messaging app for everyone. If you are a gamer or a non-gamer and are looking for a messaging gap that twill allows smooth and reliable communication, then Discord is definitely the application for you. This app is available for the users at a reasonably low price for even the entry. It is also widely available for everyone to use and supports a robust chat and video call options.