WVU, one of the most prestigious universities in the world, uses eCampus for online teaching. eCampus WVU is an innovative technology that helps students embrace and excel in online learning. Students and professors both get login details to access eCampus WVU. They can then upload material, access courses, assignments, test scores, and much more on the website portal. All in all, eCampus WVU makes online learning much more effective and easy. You can find out what eCampus WVU is and how to access it down below.
What is eCampus WVU?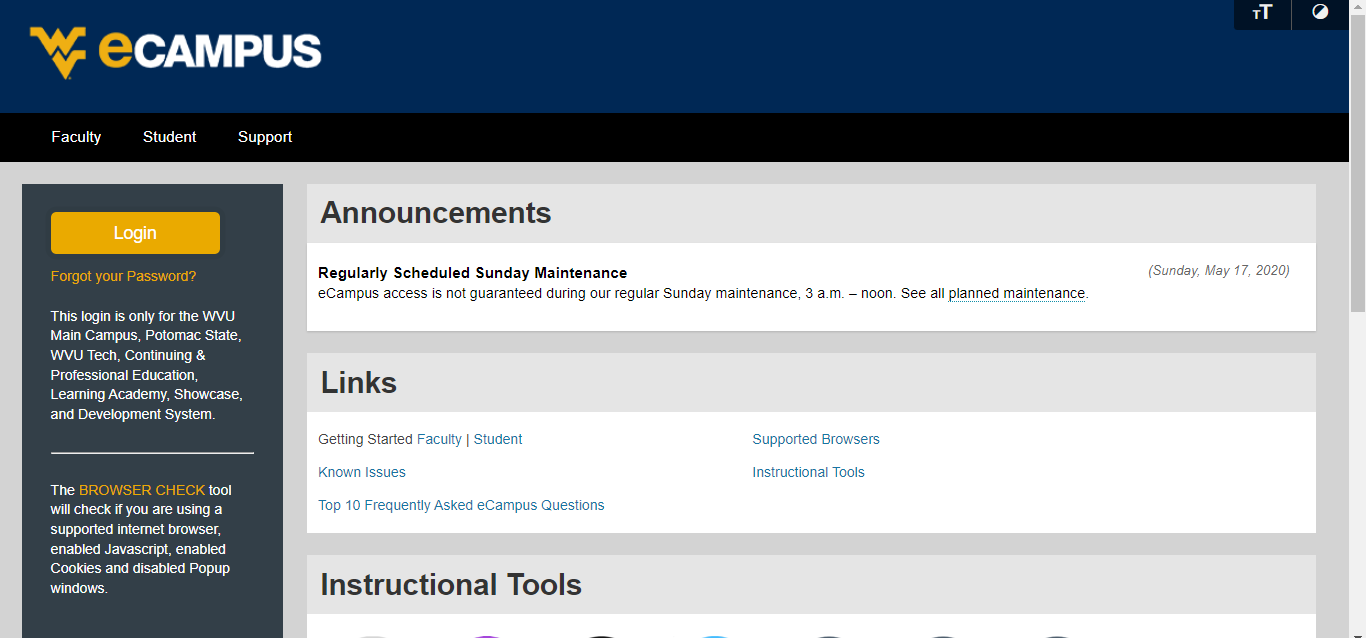 West Virginia University makes use of an eCampus portal which is an online web-based system. It is a huge aid in online teaching and learning and allows students and teachers to easily interact with each other online. 
eCampus WVU is used for delivering courses online. The courses have class schedules and the required books. Teachers can upload learning materials, assignments, and lectures on the portal. Students can then easily access them! Additionally, grades are also uploaded on eCampus WVU. Thus, students can easily keep track of their performance via eCampus WVU. 
West Virginia University Online Courses

WVU has a variety of campuses. All of them have the same mission. Thousands of students enrolled at the various campuses each year. Each campus offers a unique course like dental, clinical, and medical courses. 
WVU has launched its online courses for students to learn material online. The courses are included in the WVU eCampus and students can enroll in them to learn new skills from their homes! 
eCampus WVU Eligible Candidates 
Only WVU students and teachers can access eCampus WVU. All other people including parents can't access the portal as it requires personal login details. Thus, if you don't have an account, you will not be able to use eCampus WVU. 
WVU stores records of students and faculty on STAR, the authoritative information system. Everyone on this system gets access to eCampus WVU including instructors, active students, and teaching assistants. The non-active individuals require sponsorship from a university department to access eCampus WVU.
eCampus WVU Uses
The eCampus WVU aids in online learning by offering the following features. 
eCampus WVU has a course list on its menu page. This allows students and professors to easily access their desired courses.

Announcements, forums, assignments, and discussions among students take place on eCampus WVU. Thus, students can simply log in to their accounts to check the latest updates on their course.

Students can take tests using eCampus WVU. They will also receive their grades via the portal. 

Instructors have access to the grading center on eCampus WVU. 

Files, images, and videos are not directly uploaded on the portal. Instead, web links are used to link them on the portal. Alternatively, teachers and students can use tools like Mediasite and Voicethread to link their files.  

Students and Professors can view all website links and additional study aid on eCampus WVU. 

Class Assessments are handed out by teachers during class time directly through eCampus WVU. 

Students and Professors can easily communicate with each other via eCampus WVU. 

eCampus WVU has special tools for teaching and file uploading. Thus, it is easy for teachers to upload files and videos. Students can also easily download them in a few minutes. 

eCampus WVU is easy to navigate and meets all the requirements for providing an enhanced online learning experience. 
eCampus WVU Login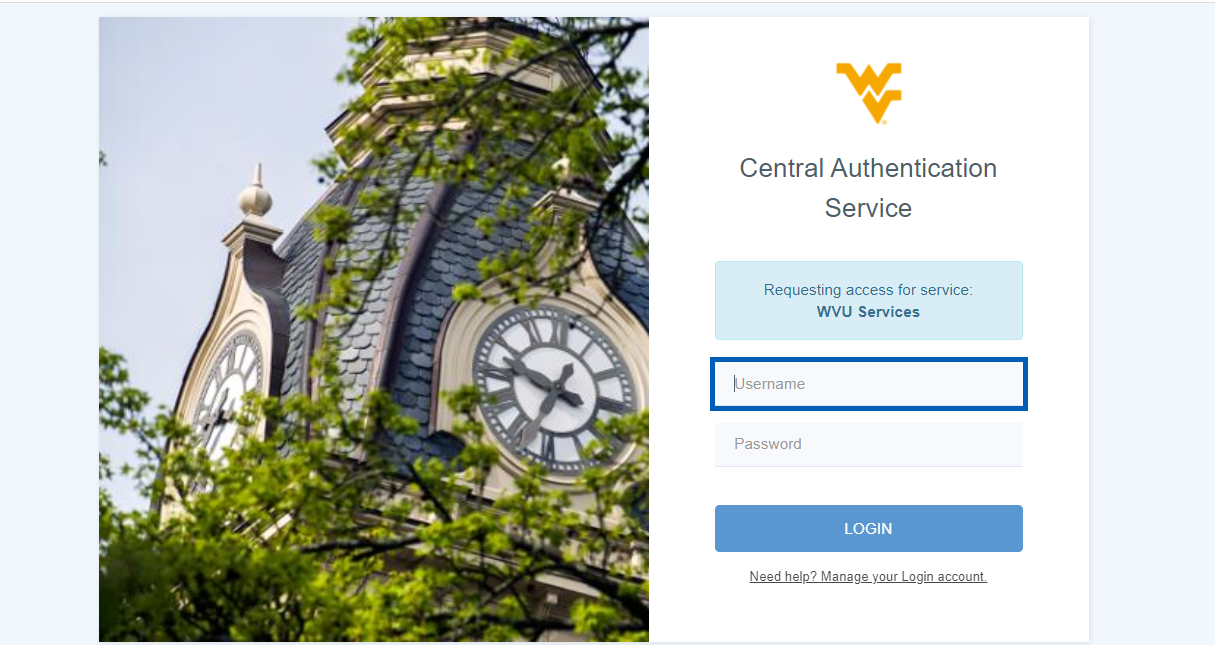 Students are required to enter their login details to access their course on eCampus WVU. Follow the steps given below to login on to the portal,
Open the official eCampus WVU site. It is https://ecampus.wvu.edu/. 

The homepage opens up. It asks you to log in. 

Key in the correct login details including your username and password. 

Recheck your details and click on Login.

WVU Main campus students, professors, tech, Potomac state, learning Academy, etc can access the eCampus WVU portal via this method. 
If you're still struggling to log in, dial 304-293-4444. This is the university's helpline that helps people log in. Alternatively, you can visit the Mountainlair or Lyon Towers ITS service center. They will help solve your login troubles.
Trouble Logging Into eCampus WVU
eCampus WVU has strict security to minimize chances of data loss. Thus, you must enter your accurate login details or you won't be allowed to log in.
If you have forgotten your password, you can recover it using the following method.
Open the eCampus WVU official site. 

Click on forgot password when the login page pops up.

Enter your username.

Click on Next.

A new page will pop up. It will ask you a few questions. Answer them correctly to verify yourself. Then, you can easily change the password! Make sure you choose a strong and memorable one!
eCampus WVU Grades
Professors can mark students' tests and assignments via the eCampus WVU portal. They can then choose the hide grade or show grade option. They can select hide grades until they have managed to grade all the tests. Then, they can allow students to view them by selecting the show grade option. 
To view your grades, select the "My Grade" option after logging into eCampus WVU. Alternatively, you can view them from the tools area. The navigation menu also has a view my grades option. You can use it for viewing grades and test scores too. 
Uploading Files on eCampus WVU
You can use website links or uploading tools for doing this. However, there is a limit to the file's size so make sure you are not exceeding it. 
Open eCampus WVU.

Visit control panel.

Select content collection. 

Click on your course ID. 

Go back to the content collection tab and open the drop-down menu. It is present on the course ID's bottom.

Select the "360 Degrees view" option. 

You will get to know the size of the current file you are uploading through the folder size that appears. 
The content collection center has a limit of 500 MB. You will get a warning at 400 MB. Files that exceed the limit will take a lot of time to load and present. Thus, you should try your best to stay within the limit.