Many people love online education as it is an ideal way to gain knowledge without visiting noisy campuses and stuffy classrooms. But the remote educational process comes with some challenges because you do not need to attend a college or university. However, you do not need to despair and return to the classic academic format. Here are the top five ways to cope with online education challenges. Surely you will find something useful here to change your educational rhythm.
Why Does Online Education Come With Some Challenges?
The problem is that many students do not perceive remote education as a classic trip to the campus, lectures, and seminars. For them, this is like online entertainment and a waste of time. At the same time, the educational approach remains the same, and you need to be aware of it. No one will craft your papers instead of you! So get ready because no one cares about your problems, and you will have to write all assignments by deadlines. And now, let's move on to the challenges and ways to overcome them.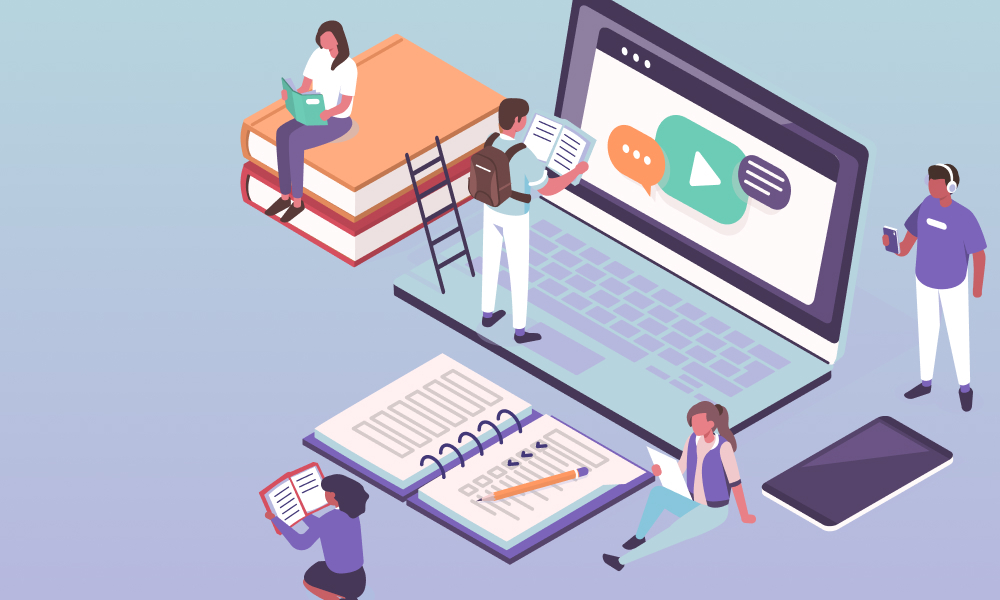 Treat an Online Class as a Real Class
First, you must understand that online classes are no different from offline ones. That is why you should not take distance education as simple and optional. Instead, you should prepare for all educational activities, write your homework assignments on time, and analyze topics carefully.
In addition, do not forget that you must be active during online classes and ask questions in time, especially if you do not understand something. Don't forget to take notes, as your professor will most likely cover important topics. In addition, you have the opportunity to record video streams to analyze key educational aspects offline. As you can see, academic success is entirely up to you, so try to become part of the educational process as quickly as possible.
Resist Social Media
And here is the most obvious way to say no to many education challenges. When your classes are held online, you are unlikely to maintain the same discipline as on campus. Moreover, you probably want to have fun if you find a lecture or seminar boring. So this is why so many online students use social media and websites to find fun content. Unfortunately, you are making a big mistake because it will be much more difficult for you to understand the essence of the lecture or seminar in the future. Try to turn off all your gadgets or close entertainment websites. Try to concentrate on the most important activities or install an app blocker on your smartphone or tablet.
Use the Internet for Inspiration
The Internet is the ideal source for finding information. Imagine that you need to craft an essay but don't know where to start. Surely you could use a good example or even academic assistance. No one is stopping you from finding writing services or free essay samples, so you know where to start your paper crafting process. You will surely find important information online, so don't worry. As a rule, millions of websites on the Internet with important facts, samples, and relevant information.
Eliminate Distractions
There is nothing more detrimental to a student than distractions. By switching to social media, video games, or phone calls, you destroy your academic foothold and waste time. So you should turn off all gadgets, delegate third-party activities, and focus exclusively on online classes. For example, imagine that a web lecture is your life's mission, and you must listen to every word your professor says. This approach is correct, as you can concentrate on the most important educational activities.
Reward Yourself
Motivation and reward are two key factors without which your educational process is unlikely to be effective. First, you should understand that you have become a student for a reason, which means you must complete your mission. In addition, you can organize a reward system in order not to lose motivation. For example, play video games after writing an essay or literature review. Buy yourself some ice cream or other sweets after you've completed the tricky homework. Use any method that will give you satisfaction and joy from work done. But do not forget that you should not turn the educational process into barter and buy yourself dozens of gifts daily. Use this approach as a motivation, not an excuse to spend money on something.
Final Words
Online learning is a chance to gain knowledge wherever you are. Connect to Sahara, Bali, or Antarctica webcasts and get new knowledge. But it would help if you remembered that the level of responsibility is very high, and you cannot neglect your academic duties. All five of the above methods will help you cope with the challenges and become a good remote student. Try to study hard, and you will see positive results.